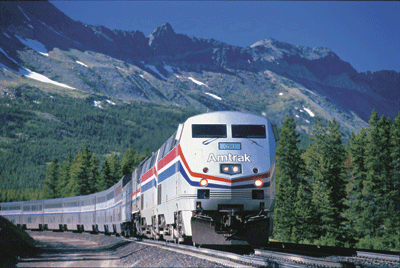 Back in 2008, I left Hawaii and set out on an adventure that took me across the USA by Amtrak train, I called it the Amtrek. This week, for the Vagobond Travel Museum, I bring you the collected articles and videos from that trip. The trip began in Honolulu and then went to Portland, Oregon from where I crossed the country and ended in New York City with a one way flight to Barcelona – the truth is, the trip has never ended since I've never gone home.
Along the way, I couch-surfed and asked my hosts the same set of quesitons, those videos are below and worth watching. Keep in mind, this was before couch-surfing had gone mainstream.
Here are the ten lessons I learned on that trip:
1. On the two story trains there are 'dressing rooms' that can be used for sex.
2. Sacramento is a lot cooler than I thought it would be.
3. Utah is an incredible place and there are some very cool folks in Salt Lake City.
4. I have no desire to go anywhere between Denver and the East Coast with the exception of Austin, Texas and Detroit, Nashville, and New Orleans. I've still never been to those cities.
5. I love New York and Boston. People in these cities rock.
6. Philly and Chicago….not so much, but the people I met in them were pretty great.
7. It's better not to hurry, a 14 day rail pass might be too short.
8. Too many museums in too short a time can't be appreciated.
9. Libraries are havens of free wifi and peaceful places to work.
10. Making the wrong friend can suck out part of your enjoyment of life.
The Amtrek
Couchsurfing in Hawaii
Arriving in Portland
Amtrak USA Rail Pass
They Live (in Portland)
Vagobond 37
White Christmas in Portland
Portland Karaoke Christmas
From Portland to Sacramento
The Sacramento Train Museum
Sacramento isn't so bad

Sacramento to Salt Lake City
Photos from SLC and a Fat Woman on the Piano
Salt Lake City 
SLC to Chicago
Chicago isn't New York City
Chicago to Boston
Boston to Providence, Rhode Island
Rhode Island to Philadelphia – short trip, no events!
Philadelphia to New York City
Vagobond in Queens
New York City Trepidation
Art at the Met and Thoughts Before Leaving the USA
The Host Videos
Couch Questions in Hawaii

Christmas in Portland

Couch Questions in Portland

Couch Questions with MJ in Sacramento

Couch Questions in Salt Lake City

Couch QUestions in Chicago

Couch Questions in Boston

Couch Questions in Providence

Couch Questions in New York City