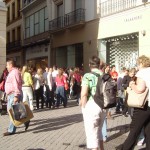 Here's a scary fact…most people have no idea just how much they are paying for the privilege of using their credit or debit cards when they are traveling. According to this infographic, obviously, they would like you to use their pre-paid currency cards and from what they infographic is saying – that seems a pretty good idea!
Campaign For Clarity – An infographic by the team at Travelex UK, providers of Travelex Prepaid Currency Cards
*A small disclaimer, this is a sponsored post and we at Vagobond have never actually used a prepaid currency card. As with all things, due diligence is recommended.